Recap: Ports at JetHawks
May 12, 2013
Today I made the long (hot) drive out to the high desert. My cell phone charger refused to work, my iPhone refuses to hold a charge, so I went my phone rapidly losing juice mile after sweaty mile. I arrived in Lancaster at one and bought myself a ticket excited to see one man in particular, last year's first round pick Addison Russell. What I got to see instead? A future Houston Astros no-hitter from Section 101, Row A, Seat 1.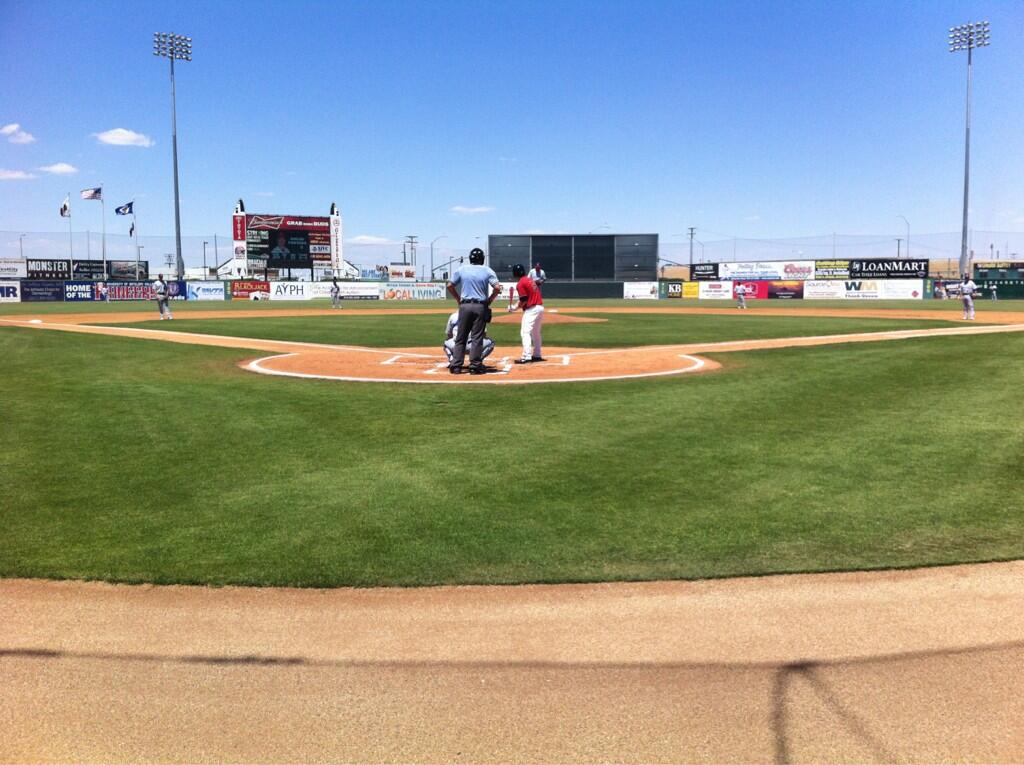 Not too shabby a day. I really can't say very much about the quality of the Stockton Ports players I saw because I really didn't see very much of them. B.A. Vollmuth who I liked in very limited action last year, stunk it up with two errors one backhanding a ball and one throwing a ball several rows behind first base (neither resulted in a run somehow). The Ports just kept grounding out and grounding out. The combined no-no was thrown by the Astros' tandem starters Kyle Hallock and Luis Cruz, who had 9-2 and 3-1 ground out to fly out ratios respectively. I was one of 1,015 to see this feat and sit through the alleged 95 degree sun (my car said 99 when I pulled up, my sunburn sure feels hotter than that)  and I am pretty certain at just one hour and fifty-two minutes never before have I seen a shorter game. Great baseball, just never know when you'll get to see something special.
There were a few noteworthy prospects to see in this one and all of them did nothing really worth seeing: Russell Baseball America's #1 rated A's prospect: 0-for-4, K and grounded into the game ending double play. Max Muncy Baseball America's #16 rated A's prospect: 0-for-3 with a strikeout. Vollmuth Baseball America's #17 rated A's prospect: 0-for-3 with two errors. Bobby Crocker Baseball America's #25 A's prospect: 0-for-3 (though he made a nice catch that the JetHawks thought was a trap – I thought it looked caught on the fly but I was somewhat screened by the second baseman). On the JetHawks/Astros side I saw, Delino DeShields Jr. Baseball America's #6 Astros prospect: 0-for-3 and a throwing error, though he earned an RBI on a sacrifice bunt that was misplayed by pitcher Blake Hassebrock (the runner would've scored regardless, but DeShields could have been out on the well placed for scoring the run bunt down the first base line had Hassebrock picked it up cleanly). Nolan Fontana Baseball America's #10 Astros prospect: 0-for-4 with two strikeouts. And finally Baseball America's #24 Astros prospect the only one of the prospects to do anything of note Andrew Aplin: 1-for-4 with a double to deep left center (a little wind carried as the wind headed that way and it just got farther and farther away from Crocker) that ultimately would have him score as the first and deciding run in the contest. 

I scored this game (first time in a while). I do a terrible job of it. But here is the Ports side of the ledger, where the no-no can be appreciated: